All Claims must be made within 21 Days of receipt of Merchandise.
All returned items must be be accompanied by the original Invoice.
NO REFUND. ONLY EXCHANGE OF MERCHANDISE.
If an item is received damaged or is incorrectly shipped by us please contact Customer Support immediately. DO NOT SIGN DELIVERY DOCUMENTS UNTIL CONFIRMING THAT MERCHANDISE HAS BEEN RECEIVED IN GOOD CONDITION.
You MUST contact us within 7 days if you intend to EXCHANGE ANY item back to our store. Items received AFTER 7 days and WITHOUT contacting us will NOT be exchanged.
Customer is responsible for all shipping costs if seller is not at fault.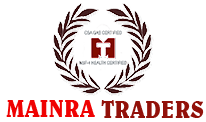 In the event of warranty claim or otherwise, the sole obligation of MAINRA TRADERS shall be supply any parts within six months of the purchase of the unit. Such repair or replacement shall be at the of any kind, including claims based on warranty, expressed or implied, contract, negligence, strict liability or any other theories shall be solely and exclusively the repair or replacement of the product as stated herein, and such liability shall not include, and purchaser specifically renounces any rights to recover, special, incidental, consequential or other damages of any kind whatsoever, including, but not limited to, injuries to persons or damage to property, loss of profits or anticipated profits, or loss of use of the product.