A tandoor is a type of oven that is made out of clay or metal, it is mostly used in cooking and baking in the northern part of India, southern Asia, Central Asia, Western Asia, and South Caucasus.
Usually, a tandoor needs charcoal or wood fire burning within itself, this will expose the food to live fire, radiant heat, hot air, smoke, and convection cooking. This allows a dish to become really delicious and Smokey.
The temperatures in a tandoor are known to reach up to 480 degrees or 900 Fahrenheit. It is also common that tandoors are going to stay lit for long periods so they can achieve high cooking temperatures.
In order to help you cook some of the best dishes in your new Tandoor, here are 5 of the best Tandoori recipes you should make in your Tandoor Oven:
1. Tandoori Murga (Chicken)
If you love chicken, then the Tandoori Murga is the one you should try. Marinate it in spices and rich flavors. Try to marinate the chicken with ginger, garlic, lemon, and tandoori masala for some time before cooking it in the scorching hot tandoor.
2. Tandoori Fruit Chaat
If you love fruits, then you should try Tandoori Fruit Chat. Make sure to pack your tandoori fruit chat with guava, green apple, pineapple, and potatoes.
3. Tandoori Gobhi
Heaven for vegetarians, the Tandoori oven allows a lot of vegetarian dishes to be cooked in it, and luckily, gobhi (Cauliflower) is one of them. The florets of the cauliflower are marinated with herbs and spices that include cardamom, carom seeds, garlic, coriander, and red chilly.
Gobhi will be cooked in a tandoor clay oven through skewers.
Where to buy a Tandoor oven in Canada? Mainra Traders are Exporters of Certified Tandoor in Canada! Order your tandoors from us and cook delicious Smokey dishes in your home.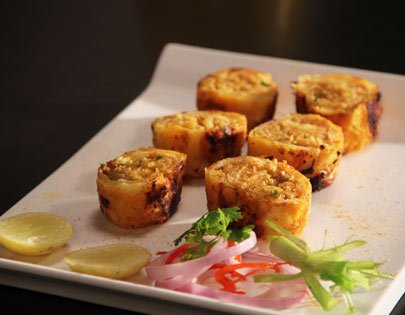 4. Tandoori Masala Pan-Fried Salmon
Best served with a cucumber salad, this dish is usually for night outs with friends, close people, and family members.
5. Tandoori Bhune Aloo
Considered as the fastest and the easiest tandoori recipe, you just have to boil up baby potatoes in a tandoor with spices that include red chili powder, yellow chilly powder, saunth chutney, amchur, black salt, black pepper, and sliced onions.
Still, have questions about tandoors? Don't worry, the tandoors Mainra Traders sell are NSF/Ansi Certified Tandoor Canada. Your safety is our number one priority!